With ProCall Enterprise, companies are able to improve their communications and collaboration internally, as well as across company boundaries with partners, suppliers and customers. This makes employees' day-to-day work more efficient and improves customer satisfaction. ProCall Enterprise can be platform-independent and device-spanning, and provides native clients for macOS, iOS and Android.
ProCall 6 Enterprise
ProCall Enterprise for the Windows Workstation
With ProCall Enterprise, the native client for Microsoft Windows, organizations are able to improve their communications and collaboration internally and across company boundaries with partners, suppliers, and customers.
In addition to proven CTI (computer telephony integration), instant messaging, presence management, screen sharing and federation, ProCall Enterprise also provides audio/video (WebRTC-based) capabilities via the company's website and the multimedia business card. Softphone functionalities (SIP) and an integration with Bluetooth are further innovations.
ProCall Mobile – native apps for iPhone/iPad and Android smartphones
ProCall Mobile is a native smartphone and tablet app for iPad, iPhone and Android with selected Unified Communications and CTI functions.The latest version has a modern design and a thoroughly revised operating concept. The focus is on easy access to ProCall Mobile's proven communication capabilities. Features such as video chat or the integration of softphone functions (SIP) significantly upgrade the new app.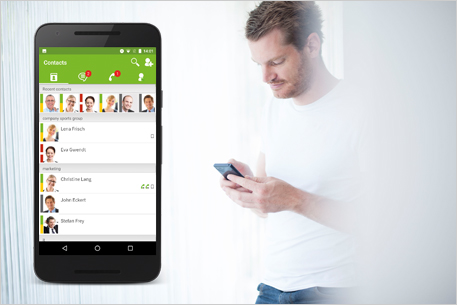 ProCall for the Mac workstation
ProCall for macOS is a native client for Mac with selected unified communications and CTI functions. The latest version has a modern design and a revised operating concept. This allows users of small and medium-sized businesses to benefit from the proven performance functions of the unified communications bestseller ProCall Enterprise and improve their collaboration.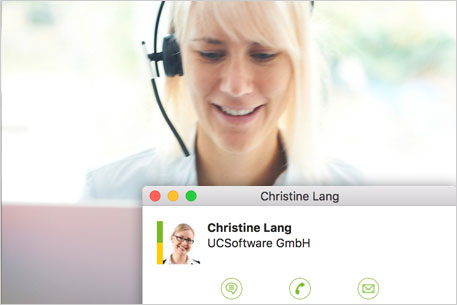 Softphone Functions (SIP)
With the integrated compatible SIP softphone, you can make VoIP phone calls from your Windows workstation or from your smartphone-app with external and internal participants, whether you're in your company or on the road. The softphone functions (SIP) are available for selected telephone systems and are being continuously developed further.
For a list of supported telephone systems and softphone functions (SIP), please click here.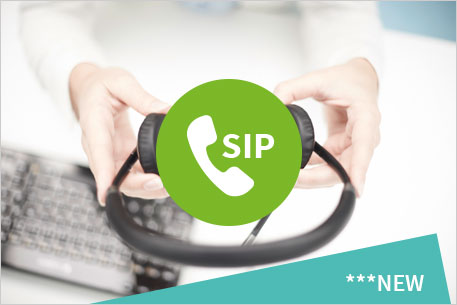 Contact Portal/Multimedia Business Card – Uncomplicated Customer Advice
With text and audio/video chats, companies can offer their customers personal, direct communication via the company's website. Be it as a contact portal, in which selected employees are made visible "externally" or by attaching a multimedia business card with audio/video chat option via an e-mail link. This allows website visitors to get uncomplicated advice before buying or to arrange a video consulting appointment without great effort.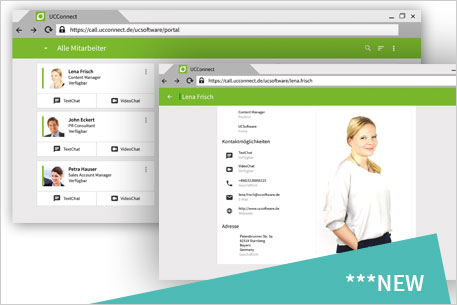 Integration with Bluetooth
Thanks to an integration with Bluetooth, you can, of course, also use the full CTI functionality of ProCall Enterprise to control your smartphone.
Accept/Hang Up – As simple as in a car.
Once linked, the transition from mobile application to fixed workstation is seamless and you can manage your entire communication with just one application on your PC.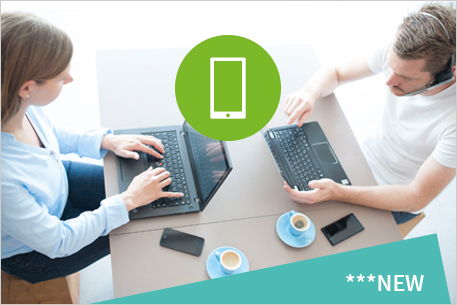 Simplified Work Steps
CTI functions (Computer Telephony Integration) saves employees the task of typing in telephone numbers manually. Potential errors are thereby minimized. Using the absence or presence register of colleagues, which is visible at all times, a communication method that is appropriate to the situation can always be selected. Audio/Video chats allow face-to-face communication regardless of distance. With these and other options, ProCall Enterprise offers a wide range of communication opportunities without requiring the user to make a choice.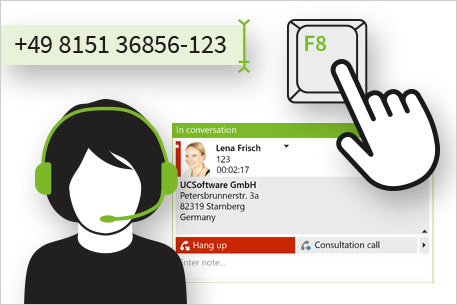 Networking Beyond the Company's Boundaries
With federation, companies are able to network with suppliers, partners and customers on the basis of open standards and secure protocols across company borders. In this way, presences can be quickly recognized and relevant information exchanged easily. The company can individually determine which data is allowed to be viewed. Sensitive data remains protected.
With Business Process Integration, Customer Service is Easy
Business process integration is used to link the CRM and ERP programs and specific industry programs used by the company, as well as a communication software such as ProCall Enterprise. This creates a bridge between dialogue with the customer on one hand and automated business processes on the other. As soon as the call begins, the employee is shown all relevant caller information directly in the call window. This enables the employee to immediately greet the caller by name. Depending on the connected CRM or ERP program, additional possibilities exist which the employee can use during the call.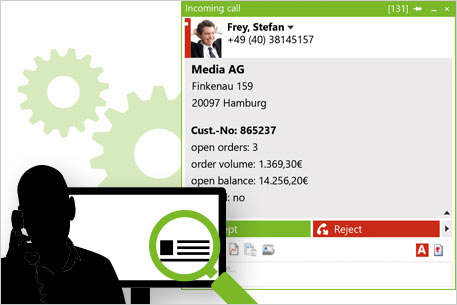 EUROGROUP S.p.A. is a certified Expert Partner.